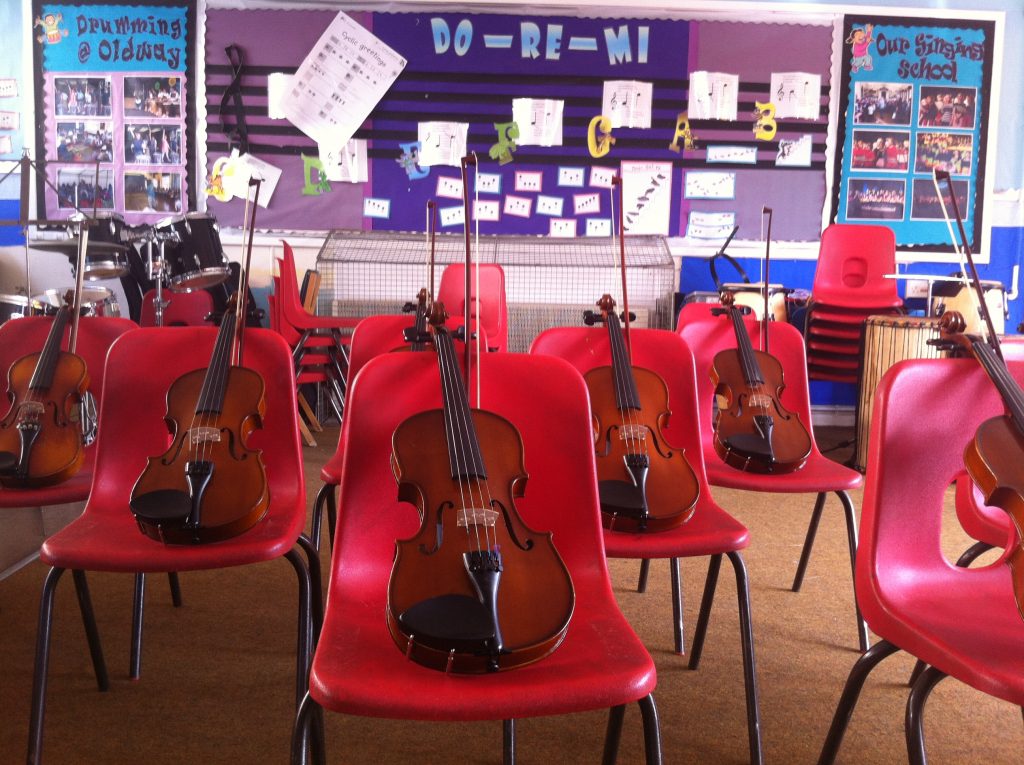 "I would like to thank you both so very much for such a wonderful day. The whole school had a great time with you both" Our Lady and St. Patrick's School, Teignmouth.
Whilst living in Devon, Jules was contracted to teach violin to both primary and secondary school classes on a regular weekly basis. She holds full DBS clearance and can provide references from her current and previous employers. Her informal style suits children of all abilities and interests – making learning fun – teaching easy folk tunes and music the children know rather than classical grades. For more information, give her a call on 07594288137.
Andrew and Jules also offer one off workshops in Folk Music and "First Go Violin" for schools on Skye and throughout the Highlands.
Our Folk Music workshops provide a stimulating inter-active experience for children – who will get a chance to try different traditional instruments (violin, banjo, mandolin etc.) as well as learn some dances and rhythm games based on traditional jigs and reels.
We have more than a dozen smaller violins (fiddles) that we can bring to schools for children to play. Our "First Go" workshops quickly get groups of children holding and playing violins, with simple rhythmic tunes that any age can learn and enjoy – to get a first taste of fiddling!
We also have a large bell tent that we can bring to provide a beautiful outdoor covered space for our workshops – great for open days and events – or for when more space is needed.
We always play plenty of music live, and talk about the joy of learning to play an instrument!
Andrew and Jules have experience of running workshops for children at all key stages, and we are happy to discuss curriculum needs with teaching staff before we arrive at the school.
To discuss booking us to run Folk Music or "First Go Violin" workshops at your school ring Andrew or Jules on 07514064558 or email us.